Buy this book, "Elastic" at Amazon, Barnes and Noble, IndieBound, iBooks, Kobo, Powell's or BAM.
"Leonard Mlodinow will make you smarter." —Seth MacFarlane
"Ingenious . . . top-quality popular neuroscience." —Kirkus Reviews
"Incorporating the most recent developments in psychology and neuroscience, award-winning science writer Mlodinow. . . elucidates how the human mind evolved a cognitive style he names 'elastic thinking.' . . . Fantastically accessible science writing. . . . Of particular interest to those wishing to understand how to cope with the pace of change in the modern world." —Library Journal (starred review)
"Timely and engrossing. Elastic is a fascinating exploration of one of the most important topics: how the human mind deals with change. If you liked Subliminal, you'll love Elastic." —Charles Duhigg, author of the best sellers The Power of Habit and Smarter Faster Better
"It's easy to describe the dizzying changes in our midst—from the gushers of information that wash over us to a world grown ever more interconnected. Far harder is to offer guidance on how we should respond. In this wise and persuasive book, Leonard Mlodinow calls for a change in the very way we think. Using a deft mix of science and storytelling, he shows the limits of linear thinking and the promise of 'bottom up' thinking that embraces ambiguity, asks the shrewd questions, and pursues novel answers to complex problems. Elastic is a book that will help you survive the whirlwind." —Daniel H. Pink, author of WHEN and A WHOLE NEW MIND
"A fascinating, useful look into how the brain works. Perfect for neophiliacs and everyone else who's dealing with a changing world." —Seth Godin, author of Footprints on the Moon
"In a world in which advancing technologies, omnipresent social media, and fiery political landscapes can make us feel helpless and paralyzed, Mlodinow shows us how our most human traits, such as novelty seeking and free-range imagination, have uniquely prepared us to thrive in an increasingly complex and ever-changing world. Most important, in the groundbreaking book he shows us how to make the best use of our most basic human talents to find true happiness and success." —Dr. Rudolph Tanzi, Joseph P. and Rose F. Kennedy Professor of Neurology, Harvard University, and author of the New York Times best seller Super Brain
"A book of sparkling intelligence, written with humor and grace. If you read only one book of accessible science this year, let this be the one." —Mark Williams, author of Mindfulness, Emeritus Professor of Clinical Psychology, University of Oxford
"[A] deeply researched and well-sourced treatise on how ideas come to form in undercurrent thinking….By understanding this nimbleness of the brain, we can better maneuver through life and expand our thought processes. With the excess of change the modern world has to offer, this volume makes for fascinating reading. Mlodinow fans will enjoy another journey into how we think." — Booklist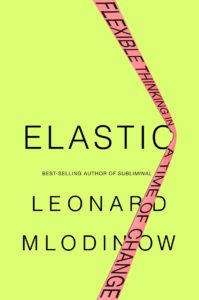 From the best-selling author of Subliminal and The Drunkard's Walk comes a groundbreaking look at the psychology and neuroscience of change, and at how tapping into elastic thinking will help us thrive in the modern world. Drawing on cutting-edge research, Leonard Mlodinow takes us on an illuminating journey through the mechanics of our minds as we navigate the rapidly changing landscapes around us. Out of the exploratory instincts that allowed our ancestors to prosper hundreds of thousands of years ago, humans developed a cognitive style that Mlodinow terms elastic thinking, a unique set of talents that include neophilia (an affinity for novelty), schizotypy (a tendency toward unusual perception), imagination and idea generation, and divergent and integrative thinking. These are the qualities that enabled innovators from Mary Shelley to Miles Davis, from the inventor of jumbo-sized popcorn to the creators of Pokémon Go, to effect paradigm shifts in our culture and society. In our age of unprecedented technological innovation and social change, it is more important than ever to encourage these abilities and traits. How can we train our brains to be more comfortable when confronting change and more adept at innovation? How do our brains generate new ideas, and how can we nurture that process? Why can diversity and even discord be beneficial to our thought process? With his keen acumen and quick wit, Leonard Mlodinow gives us the essential tools to harness the power of elastic thinking in an endlessly dynamic world.