Buy this book at Amazon, Barnes and Noble, IndieBound, or iBooks.
"The Upright Thinkers playfully tracks the evolution of man's understanding of the world over millions of years. . . . An accessible and engaging read that brings science's brilliant minds to life." —Financial Times (London)
"Powerful. . . . Breath[es] new life into science history. [Mlodinow] frames narratives of great thinkers with serial scenes of his father's great courage and curiosity." —Publishers Weekly (starred review)
"[An] amazingly compact yet satisfying history. . . . [Mlodinow] is a whiz of a popular-science writer. . . . Amateur science mavens couldn't ask for a better brief, introductory text." —Ray Olson, Booklist
"How did we move so rapidly from caves to cars, from the Savannah to skyscrapers, from walking on two legs to bounding on the Moon? Follow Mlodinow on an astonishing tour of our species' journey; with each new stop, you'll discover how our unceasing progress is driven by something very special about human brains: our unslakable thirst for knowledge." —David Eagleman, PhD, Neuroscientist, New York Times bestselling author of Incognito: The Secret Lives of the Brain
"[A] bracing work of scientific history. . . . Don't worry if quantum physics and the theory of relativity leave you quaking. . . . Mlodinow knows how to talk to the science-challenged." —Library Journal 
"Endlessly fascinating . . . consistently thought-provoking. . . . A selective, guided tour of the human accumulation of knowledge . . . [and] the striking characters who pioneered scientific discoveries. . . . A breathtaking survey." —Kirkus Reviews (starred review)
"Mlodinow vividly traces the revolutions in thought and culture that define our civilization and, as a bonus, presents a stimulating overview of the history and majestic sweep of modern science." —V. S. Ramachandran, author of The Tell-Tale Brain: A Neuroscientist's Quest for What Makes Us Human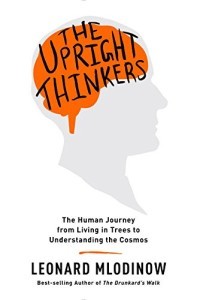 How did a near-extinct species, eking out a meager existence with stone axes, become the dominant power on earth, able to harness a knowledge of nature ranging from tiny atoms to the vast structures of the universe? Leonard Mlodinow takes us on a passionate and inspiring tour through the exciting history of human progress and the key events in the development of science. In the process, he presents a fascinating new look at the unique characteristics of our species and our society that helped propel us from stone tools to written language and through the birth of chemistry, biology, and modern physics to today's technological world.
People often think that science advances through the application of tight logical analysis conducted by scientists who set out to accomplish a goal, understand what they are doing, and proceed to do it. But Mlodinow shows us the reality of science, which advances through convoluted, messy, and confused jumps, the true significance of which are usually appreciated only long after the fact.
Mlodinow also explores the cultural conditions that influenced scientific thought through the ages and the colorful personalities of some of the great philosophers, scientists, and thinkers: Galileo, who preferred painting and poetry to medicine and dropped out of university; Isaac Newton, who stuck needlelike bodkins into his eyes to better understand changes in light and color; and Antoine Lavoisier, who drank nothing but milk for two weeks to examine its effects on his body. Charles Darwin, Albert Einstein, Werner Heisenberg, and many lesser-known but equally brilliant minds also populate these pages, each of their stories showing how much of human achievement can be attributed to the stubborn pursuit of simple questions (why? how?), bravely asked.
The Upright Thinkers is a book for science lovers and for anyone interested in creative thinking and in our ongoing quest to understand our world. At once deeply informed, accessible, and infused with the author's trademark wit, this insightful work is a stunning tribute to humanity's intellectual curiosity.