(co-authored with Stephen Hawking)
Buy this book at Amazon, Barnes and Noble, IndieBound, or iBooks.
#1 NEW YORK TIMES BESTSELLER
"In this short and sprightly book . . . Hawking and Mlodinow take the reader through a whirlwind tour of fundamental physics and cosmology."—The Wall Street Journal
"Fascinating . . . a wealth of ideas [that] leave us with a clearer understanding of modern physics in all its invigorating complexity."—Los Angeles Times 
"The authors bring to the field an anecdotal clarity that is something of a first for this genre. . . . Making science like this interesting is not all that hard; making it accessible is the real trick."—Time 
"Provocative pop science, an exploration of the latest thinking about the origins of our universe."—The New York Times 
"Introduces the reader to topics at the frontier of theoretical physics . . . more clearly for general readers than I have seen before."—Steven Weinberg, The New York Review of Books 
"Groundbreaking."—The Washington Post 
"A provocative, mind-expanding book."—The Plain Dealer
How can we understand the world in which we find ourselves? Over twenty years ago Stephen Hawking wrote A Brief History of Time, to try to explain where the universe came from, and where it is going. But that book left some important questions unanswered. Why is there a universe--why is there something rather than nothing? Why do we exist? Why are the laws of nature what they are? Did the universe need a designer and creator? In this startling and lavishly illustrated book, Stephen Hawking and Leonard Mlodinow present the most recent scientific thinking about these and other abiding mysteries of the universe, in nontechnical language marked by brilliance and simplicity.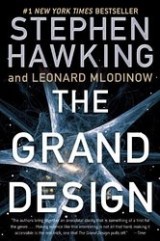 It was Einstein's dream to discover the grand design of the universe, a single theory that explains everything. However, physicists in Einstein's day hadn't made enough progress in understanding the forces of nature for that to be a realistic goal. In recent years the development of M-theory, the top-down approach to cosmology, and new observations such as those made by satellites like NASA's COBE and WMAP, have brought us closer than ever to that single theory, and to being able to answer those deepest of questions. And so Hawking and Mlodinow and set out to write a sequel to A Brief History of Time to attempt to answer the Ultimate Question of Life, the Universe and Everything. The result is The Grand Design, the product of a four-year effort.
In The Grand Design the authors explain why, according to quantum theory, the cosmos does not have just a single existence, or history, but rather that every possible history of the universe exists simultaneously. They question the conventional concept of reality, discuss how the laws of our particular universe are extraordinarily finely tuned so as to allow for our existence, and show why quantum theory predicts the multiverse--the idea that ours is just one of many universes that appeared spontaneously out of nothing, each with different laws of nature.