Buy this book, "Stephen Hawking - A Memoir of Friendship and Physics" at Amazon.
From the Wall Street Journal review:
Mr. Mlodinow's memoir genuinely has something to add, insights that are not to be found elsewhere… a vivid and compelling account of Hawking's character, its many strengths and its occasional deep flaws… Mr. Mlodinow is very good on the small details of Hawking's condition… poignant and interesting…
From the Telegraph:
[An] affectionate but clear-eyed memoir… [Mlodinow is] a theoretical physicist and – rather unfairly – a brilliant writer to boot… both a personal and intellectual biography of its subject, without wasting time on trivia… Mlodinow's explanations are marvels of compact clarity… tremendously entertaining… [Mlodinow is] a more widely cultured man than [Hawking]…
From the Guardian review:
highly enjoyable…a tender account, full of genuine affection, which doesn't shy away from Hawking's intense focus, self-centredness, unpredictability and the difficulties faced by his wives and carers… highlight[s] the banality and ordinariness of the many daily routines that made up the unseen part of [Hawking's] life. These stories, told with humour and fondness, mean that I feel I now know Hawking a little better.
From Sunday Times interview:
… throws new light on his discoveries and his indomitable spirit.
From The Sunday Times Review:
Mlodinow saw the man from a unique vantage point. He can delve into intimate details and survey the intellectual high ground… almost uncomfortably fascinating… a compelling read.
From the London Times review:
Mlodinow is a good writer. You are unlikely to find a better primer to Hawking, or to his physics.
The book has also received fantastic advance quotes including Michio Kaku and Sean Carroll:
'Leonard Mlodinow has done the impossible. He has skillfully woven together a thoughtful, insightful, intimate, and engaging portrait of Stephen Hawking, one of the greatest minds of our times, while being scrupulously faithful to the physics. Hawking would have been proud of this book' Michio Kaku
'An intimate, unique, and inspiring perspective on the life and work of one of the greatest minds of our time. Filled with insight, humour, and never-before-told stories, it's a view of Stephen Hawking that few have seen and all will appreciate' James Clear, author of Atomic Habits
'Stephen Hawking was a unique scientist and person, and Leonard Mlodinow's book is a unique glimpse into how he worked and lived. As educational as it is touching, this is a deeply human look at a mind that spanned the cosmos' Sean Carroll, author of Something Deeply Hidden
'Stephen Hawking surpassed science and touched the world with his transcendent genius and heroic courage that inspired millions. In this intimate memoir, his long-time friend and physics collaborator Leonard Mlodinow, one of the finest science writers of our time, shares insights into Hawking that humanizes him while also revealing what made him one of history's greatest minds' Michael Shermer, author of The Believing Brain
Alongside the advance quotes the Amazon title page features a number of glowing 5* Amazon vine reviews:
'An intimate portrait delving far deeper than any biography'
'A fascinating tribute to Hawking'
'A true insight into the life of a genius!'
'A beguiling and uplifting tale by somebody who really knows how to write and communicate'
An intimate and inspirational portrait of Stephen Hawking – the man, the friend, the physicist.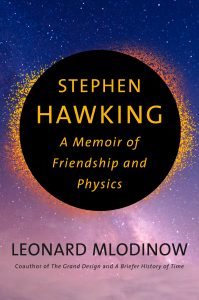 One of the most influential physicists of our time, Stephen Hawking touched the lives of millions. Recalling his nearly two decades as Hawking's collaborator and friend, Leonard Mlodinow brings this complex man into focus in a unique and deeply personal portrayal. We meet Hawking the genius, who pours his mind into uncovering the mysteries of the universe—ultimately formulating a path-breaking theory of black holes, which reignited the discipline of cosmology and paved the way for physicists to investigate the origins of the universe in completely new ways. We meet Hawking the colleague, a man whose illness left him able to communicate at only six words per minute, and yet would expend the effort to punctuate his conversations with humor. And we meet Hawking the friend, who can convey volumes with a frown, smile, or simply a raised eyebrow.
Mlodinow puts us in the room as Hawking indulges his passion for wine and curry; shares his feelings on love, death, and disability; and grapples with deep questions of philosophy and physics. Whether depicting his devotion to his work, demonstrating how he would make spur of the moment choices like going punting on the River Cam (despite the risk the jaunt posed), or spinning tales of him defiantly urinating in the hedges outside a restaurant that didn't have a wheelchair-accessible toilet, Mlodinow captures Hawking's indomitable spirit. This deeply affecting account of a friendship teaches us not just about the nature and practice of physics but also about life and the human capacity to overcome daunting obstacles.
An icon of the last fifty years, Stephen Hawking seems to encapsulate genius: not since Albert Einstein has a scientific figure held such a position in popular consciousness.
Many people know about his brilliant mind but how many know about his stubbornness, resilience and sense of humour? Combining personal experience, first-hand account anecdotes and the science behind his most ground-breaking discoveries, this is Stephen Hawking at his most human.